Meet Dr. Ron Wright
First Chiropractic Experience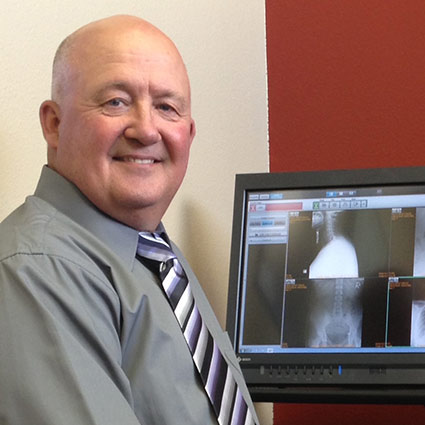 I saw Dr. C. H. Winkler in Bismarck when I was bucked off a pony chasing cows. I was 12 and growing up on a farm north of Flasher, North Dakota. A few years later I hurt myself playing basketball when I was 16 and I remember Dr. Winkler coming to the office on Christmas Eve morning. I had nausea, headaches, and hadn't been able to keep any food down for a couple of days. He examined me and told my parents my middle back and upper neck were out of adjustment, irritating the nerves to the stomach and causing the headaches. All I know is that night I ate the whole turkey!
That one experience made an impact on me. I thought that was quite "neat" that Doc Winkler could simply adjust me and all the headaches, nausea, and gastro-intestinal problems went away fairly quickly.
A Chiropractic Education
After graduating from Flasher High School and attending Dickinson State College I entered Palmer College of Chiropractic in Davenport, Iowa. Xray and technique classes were spectacular to me. After graduation in 1976 I practiced in Dickinson for five years before buying an office in Williston in 1981 and we've been here ever since. Our office is
in the Fisher Building and we share the building with Dr. Fisher, an Orthodontist.
Sometimes new patients will scratch their head and mention they are sure they have seen me somewhere before. That's probably because I've refereed high school football for 45 years and basketball for over 25 years. It's been a privilege to be a part of young people's lives as they play in their chosen sports. I've done over 1000 football games, 100+ playoff games, and 7 state title games over the years. They have even let me do six or seven state tournaments in basketball. I've also been president of the North Dakota Official's Assn. and was voted into the NDOA Hall of Fame.
On Sundays you may see me at First Lutheran Church or helping out as a lay pastor when surrounding Lutheran churches need some help when their pastors are gone. It's been a real blessing to worship with these other congregations in the surrounding community.
I met my wife Patty at Dickinson State College. Can you believe last Christmas we had our 47th anniversary? Patty works part time at Cooks on Main here in Williston. We've been blessed with three children. Justin also attended Palmer College of Chiropractic and practices and lives in Phoenix, Arizona with his wife Heather and their five children. Jeremy is the one-man city dept. in Grenora, North Dakota. He and his wife Nicki, also from Grenora, have 2 kids. Jerilyn returned to North Dakota a while back and is now a stay-at-home mom with kids.
Start Care Today
Enough about me, I invite you to contact our office for whatever health care concern you may have. After a consultation and exam we will determine if you are a good candidate for chiropractic care. If you are, we will render the finest quality care available today. If you are not a chiropractic case, we will tell you and refer you to the appropriate physician necessary. That's our job.
---
Dr. Ron Wright | (701) 572-2951